Invisalign Preferred Provider
If you've always wanted a beautiful smile but never had the opportunity to get your teeth straightened you'll want to call Atlantic Dental Group. Invisalign is to traditional braces like a Porsche is to a horse and buggy—a technological advancement that will make you glad you didn't have to spend years in ugly, uncomfortable braces but instead had to wait until Invisalign was developed
Invisalign: A modern approach to straightening your teeth, Atlantic Dental Group is an Invisalign "Preferred Provider", offering 3 doctors specializing in this treatment. Using a series of custom-made aligners created for you and only you that you wear over your teeth, the aligners will gradually and gently shift your teeth into place. You can achieve a great smile with little interference in your day-to-day life without most people knowing you are straightening your teeth.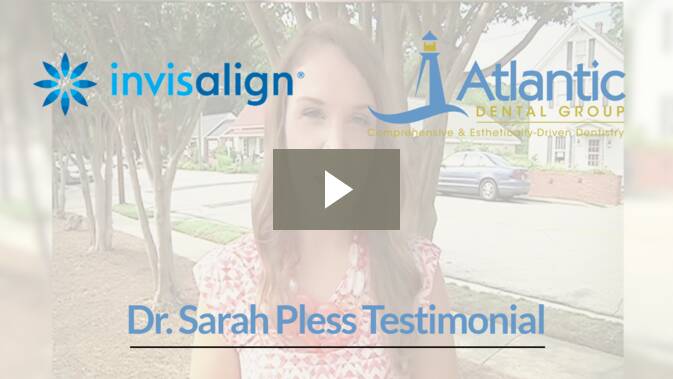 • Invisalign is nearly invisible – Each aligner is made of clear, strong medical grade plastic that is virtually invisible when worn.
• Invisalign is removable – Since the aligners can be removed, Invisalign facilitates brushing and flossing. This makes maintaining optimal oral health easier than ever. That means you can eat things normally considered off limits in traditional orthodontic treatment.
• Invisalign is comfortable – There are no metal brackets or wires to cause mouth irritation.
• Invisalign is convenient – Because there are no brackets and wires, less time is spent in the dentist's office getting adjustments. Yet cases can be finished in approximately the same amount of time as conventional braces.
Atlantic Dental Group offers iTero-impressionless scanning. You'll benefit with a comfortable, impression-free experience (no gagging!), shorter appointment times and a more accurate fit. You can request a consultation with an Atlantic Dental Group doctor to determine the significant positive impact this treatment may have on how you look and feel about yourself. Get the smile you want without disrupting your smile!
"I just had my first appointment for my journey with Invisalign to have my teeth straightened. The appointment lasted about an hour total, during which they digitally scanned my teeth and took a few other pictures. Not invasive in the least… The Dental Assistant was informative, kind and professional, as well as the front office staff - but that is the kind of service I receive at Atlantic Dental EVERY TIME
- Virginia
Atlantic Dental Group
1301 Physicians Drive
Wilmington, NC 28401
 910-762-0958
 910-762-2771
info@atlantic-dental.com